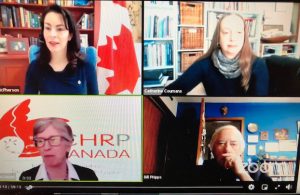 By Mila Astorga-Garcia
The Philippine Reporter
A petition calling on the Canadian Government to act in response to intensifying extrajudicial killings and red-tagging of environmental and human rights defenders in the Philippines was tabled by the Member of Parliament of Edmonton Strathcona, Heather McPherson in the House of Commons Thursday, Feb. 25, 2021.
"Canada is implicated in the rights abuses through its security assistance to the Phiippines and the role that Canadian mining companies play in the country," says a statement issued by MiningWatch Canada and the International Coalition for Human Rights in the Philippines (ICHRP-Canada) that had started the Parliamentary Petition in 2020, gathering over 1000 signatures from concerned Canadians.
Heather McPherson, MP Edmonton Strathcona
In a press conference that followed the tabling of the legislation, McPherson expressed her concern that Canadian mining companies are not always good with corporate social responsibility with regards to their practices in the Philippines and all over the world.
"Canadian mining companies are perpetrating quite incredibly serious human rights abuses and environmental degradation" most of them against indigenous populations in the Philippines and other countries, she said.
She also expressed concern that the Ombudsperson created by the Canadian government three years ago, who is supposed to be mandated to look into human rights abuses had done nothing. With "no ability to compel testimony from witnesses, with no independence… and with no investigations conducted" into the abuses, this Ombudsperson, despite the mandate and a budget, is just "a figurehead," she lamented.
Catherine Coumans of MiningWatch Canada, during the same press conference corroborated McPherson's concerns citing facts from reports and her peronsal experiences.
"The international human rights organization, Global Witness, reported that in 2019 over half of all reported killings of rights defenders occurred in just two countries, the Philippines and Colombia, and that mining was the deadliest sector with 50 defenders killed in 2019.
"Canadian mining companies operating in the Philippines, do so in a context of gross violations of human rights, of extra-judicial killings, of intimidation, fear, red-tagging and repression of human and environmental rights defenders. And at times, Canadian mining companies benefit from this context of oppression and impunity."
Coumons noted the case of Canadian mining company OceanaGold, in particular, as it "stands accused of both human rights violations and of having degraded the environment – contaminating and depleting water resources around its copper-gold mine in the province of Nueva Vizcaya. OceanaGold faces strong and persistent opposition by local indigenous people in the village of Didipio, who are supported by their mayor and governor, as well as by provincial and national organizations," she said.
She added: "In October of 2018, 27 individuals found themselves personally targeted in a way that is a common precursor to extra-judicial killings. The one thing these individuals had in common was their open criticism of OceanaGold's operations. First large signs started to appear along major roads and thoroughfares in the capital of Nueva Vizcaya. The crude signs accused various organizations critical of OceanaGold of being associated with the country's New People's Army (NPA), an outlawed long-running communist guerilla movement. Following the signs, a pamphlet was widely distributed with the names of 27 individuals and two organizations. All were accused of being in one way or another associated with the NPA – a practice known in the Philippines as "red-tagging.
"Five of the individuals targeted were from the village of Didipio, where the OceanaGold mine operates, including the elected village captain of Didipio who said [quote] "I think I was named on the pamphlet because I am representing so many people in Didipio that do not want the mine to continue, or to expand, because of all the negative impacts we have been experiencing and the mine's broken promises." [unquote] Two weeks before the red-tagging incident, village captain Bobola had handed over a petition, signed by many villagers, to the Minister of the Department of Environment and Natural Resources asking for the suspension of OceanaGold's mine.
"In June 2019, OceanaGold's 25-year mine permit expired and was not renewed. The company kept mining anyway. With the authorization of their municipal and provincial governments, villagers of Didipio successfully blockaded the mine site and brought the operations to a halt. OceanaGold has twice relied on force to breach the blockade in order to bring fuel trucks into the mine site. On April 6, 2020, some 100 Philippine National Police violently dispersed 29 villagers maintaining the blockade. Rolando Pulido was beaten and arrested; others were wounded.
"Canada has a duty to protect human rights. In November of 2018 I accompanied three villagers from Didipio, whose names had appeared on the red-tagging pamphlet, to the Canadian Embassy in Manila. They sought protection from the threat of extra-judicial killing that so often follows being red-tagged. It soon became clear, in this case, as in others we have documented, that while Canadian embassy staff are mandated to promote and protect the interests of Canadian mining companies operating overseas, they have no clear mandate to protect the human rights of those who are threatened, because they oppose Canadian mining operations," Coumons concluded.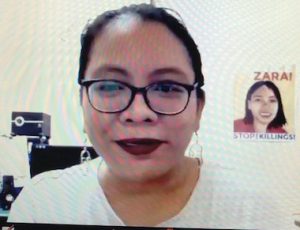 Tina Palabay, Karapatan General Secretary
Tina Palabay, general secretary of Karapatan (Philippines), a leading organization that looks into and acts on human rights cases in the Philippines, described the human rights situation as"fast spiralling downwards with the continuing extrajudicial killings of human rights defenders, including environmental activists, political dissenters, suspected drug users or peddlers, lawyers, journalists and many other Filipinos, and with hundreds or even thousands arrested because of their human rights and development work, or their political beliefs, or they supposedly violated quarantine rules."
She added that "threats through kill-kill-kill orders and red-tagging from the highest levels of government to local government levels abound, all creating not only a climate of fear and impunity, but also a climate where there is total disregard and violation of human rights, the double standard of justice, and the distortion of human rights principles are normalised.
Civic society space is fast shrinking with the recent note verbale issued by our foreign ministry requiring government clearance for foreign funding for Philippine-based NGOs, police and military clearances for registration of CSOs working at the local community levels, encouragement of drug war killing operations against so-called left-leaning personalities, incessant red-tagging and the enactment and implementation of the terror law, which is overbroad, vague and draconian and seen to have been legislated for the sole purpose of stifling dissent, not terrorism."
She adds: "Such events emanates from policies bereft of human rights framework such the anti-narcotics campaign and the counterinsurgency and counter-terror campaigns, espoused by the President himself and echoed by government officials in the executive and legislature, and in more ways than one encouraged even by the judiciary."
As to what Canada can do about the situation, Palabay has this to say: "We believe that with our efforts here at the domestic level, Canada and the international community can do more to say that enough is enough – that the Canadian businesses, including mining corporations, should be brought to justice if it is seen as parties to these human rights violations; that the Canadian government shouldn't be a party to these violations with its continuing aid and assistance for the police and military in the Philippines; that the Canadian people should push for justice and accountability in the Philippines and elsewhere were there are crimes against humanity and gross human rights violations, as fervently as your fight for justice and accountability in Canada."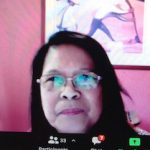 Bern Jagunos , ICHRP Canada
Bern Jagunos of ICHRP Canada criticized the Canadian government's role on the human rights situation in the Philippines, as she described government's policy regarding the human rights abuses in the Philippines as " quiet diplomacy."
She elaborated: "It declines to speak publicly against the extrajudicial killings. Yet Canada's guidelines on supporting human rights defenders recognizes that PUBLIC intervention, such as public statements, is an effective tool to support those facing grave danger.
"Our organization, ICHRP Canada, has repeatedly requested the Canadian embassy in Manila to meet with defenders who are red-tagged and getting death threats, to visit political prisoners and indigenous communities under attack for their resistance to mining. These are among the tools of intervention in the government's guidelines to support human rights defenders. Such requests have been ignored.
"Despite concerns, about human rights abuses perpetrated by the military and police, Canada continues to support the Philippines with military funding and cooperation. Canadian assistance to the Philippines in 2018-2019 was $37.9 million. $2.4 million was for counter-terrorism programs. In addition, Canada channels more funding for counter-terrorism programs through the Association of Southeast Asian Nations (ASEAN).
"Canada also provides training for Philippine military and police. The 2018 report of the National Defense shows that officers of the Philippine National Police and the Philippine Armed Forces participated in its Military Training and Cooperation Program conducted here and abroad in 2017-2018. The program includes training in counter-terrorism.
"In 2018, we stopped the sale of 18 helicopters worth $234 million, but that issue is not dead. Canada continues to pursue military trade with the Philippines. Helicopters are used in military bombing operations, often affecting communities of indigenous peoples, some in areas where Canadian companies have mining interests," Palabay said.
ICHRP is calling on the Canadian government to review its relations and programs in the Philippines and to apply human rights criteria in making decisions on funding, bilateral relations and cooperation programs with the Philippine government."
Even as the human rights situation deteriorating in the Philippines, the Canadian government continues to support Philippine President Duterte, says Patricia Lisson of ICHRP Canada who moderated the press conference. She notes that the Philippines is now one of the two most dangerous countries for people defending human and environmental rights, which is why the Canadian government should be called to account for its actions indicating support for the Duterte government.
Lisson said: "Given the grave human rights situation in the Philippines, Canada should not be selling the country military equipment and providing security cooperation…Canada should add the Philippines to its list of countries to which it will not export military goods and technology."
What are the next steps now that the Parliamentary Petition has been tabled before the House of Commons?
McPherson said she will be tabling legislation to strengthen Ombudsperson position in a couple of weeks. She will also continue to bring the topic before her party, the NDP, and the House when she can, she said.
Meanwhile, ICHRP-Canada's next step includes preparing to be invited before Foriegn Affairs Subcommittee on Human Rights. "We have been in dialogue with the Forgien Affairs Standing Committee to bring to their attention the human rights issues, military sales to the Philippines and how Canadian mining companies are involved," Lisson said.
MiningWatch Canada is following a similar path. MiningWatch Canada and ICHRP-Canada are both involved in InvestigatePH, an initiative pushing the UN High Commission to produce a stronger report calling for an independent review of human rights in the Philippines, Lisson added.
---
Originally published in The Philippine Reporter.