Dundee Precious Metals rejects study that says there were 'serious errors' in its Ecuador project
Study said project could put local communities at 'significant risk' and lead to arsenic contamination
By Naimul Karim, Financial Post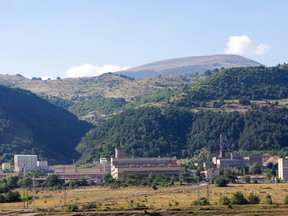 A Dundee Precious Metals Inc. mine in Chelopech, Bulgaria. Photo by Handout
Toronto-based Dundee Precious Metals Inc. is rejecting a non-profit's study that says there were "serious errors and omissions" in its plans to develop a gold-copper mine in Ecuador that could put local communities at "significant risk" and lead to arsenic contamination.
In rejecting the analysis conducted by geo-environmental experts of Colombia-based Terrae Geoenvironmental Corp., Dundee said it has a "strong reputation" for sustainable mining and that it sets "high standards" for safety and environmental issues.
Terrae's review of the project's environmental study said there was a high probability that the region's water would be contaminated by arsenic — contained in rocks that host minerals such as gold and copper — since the potential mine will be built on a high-altitude wetland that plays a key role in recharging the region's water cycle. It said Dundee hasn't considered this as a risk.
The non-profit also said the company didn't consider the impacts of excessive rainfall or a natural disaster such as an earthquake that could destabilize its tailings deposit, which will hold 5.5 million tons of mine waste that the company is expected to produce and store during the project's 12-year mining cycle.
"The climate crisis is already posing new risks for landslides. Classifying as 'irrelevant' the consequence of a tailings deposit failure for a project the size of Loma Larga — located in the highest part of a densely-populated area — is completely irresponsible," Julio Fierro Morales, one of the authors of the report, said in a press release.
"Given the serious impacts a tailings failure would have, the Ecuadorian government should outright ban exposed tailings like what's being proposed for the project."
....
Read the full article here.